T'sたんたん
T's Tantan is an offshoot of Jiyugaoka-based T's Restaurant. Their claim to fame?
Healthy vegan cuisine. While I haven't been to the original restaurant, they are quite famous and based on their reputation should be able to pull off a tasty meal.
Can they do it? Can they make delicious eats at a ramen-only restaurant?
Nope! The tantanmen was flavorless, apart from a strange aftertaste. Just look at the above image. Does it look appetizing?
The spicy tantanmen isn't much better. The addition of sliced spring onion and hot chilies doesn't do much.
The
shoyu
ramen includes a sprinkling of mystery meat. Probably soy-based
daizu
.
Vegetarians, especially vegans, have a near impossible time in Tokyo. In a city that could be considered the culinary epicenter of the world, most chefs have no idea about the rules of dietary restrictions. Simple explaining that you can't eat meat, and you will probably get some fish and maybe a bit of chicken. Explain that fish is also taboo, and you may find a sprinkling of dried shrimp substituted for flavor. I speak from experience with that one.
I can't introduce you to good vegan cuisine at T's. The least I can do is link to some nice printable cards that may or may not help you out. Courtesy of
Just Hungry
.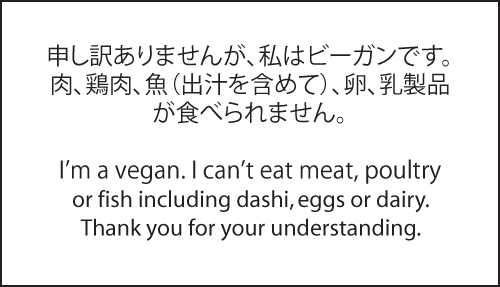 http://justhungry.com/japan-dining-out-cards
Vegetarians are not completely in the dark when it comes to ramen. Please do yourself a favor and head over to Soranoiro for a bowl of their
Vegan Ramen
. It's an awesome bowl that meat eaters would be happy with. You can even get a green smoothie at Soranoiro while you wait for your noodles to cook. The vegan I was with was
very
happy with that combo.
Official Site Here
東京都千代田区丸の内1-9-1 JR東京駅構内京葉ストリート内
Inside Tokyo Station
Open 7:00am-23:00